Custom Cabinet Design in Tulsa, OK
Cabinet Styles Available at Elite Cabinets
If your home or office needs custom cabinet design services, look no further than Elite Cabinets in Tulsa, OK. Our name says exactly what we provide: only the best in cabinetry and customer service. Check out our selection below, and call us today to begin designing your custom cabinet space.
Elite Cabinets offers many materials and colors to serve as the base of your custom cabinetry. Choose from classic wood, modern aluminum-framed glass, durable laminate, or budget-friendly Thermofoil, just to name a few. Each material comes in multiple colors, meaning you can achieve the look you want no matter your budget. Click on each material to see the options and to learn about its advantages.
Cabinet InteriorS
No custom cabinet design is complete until you pick the interior. Elite Cabinets customers can choose from melamine or plywood. Both materials are sturdy and resistant to damage – they'll look great for years and provide the storage support you need.
Drawers
The drawer options at Elite Cabinets make it easy to prioritize cleanliness and organization from the moment your cabinets are installed. In addition to basic five-piece drawers (the four sides and the bottom), you can also choose drawers with built in-organizers that keep items in their places, gallery rails that let you see the drawer's contents from the side, and soft-glide rails that prevent drawers from crashing closed.
Lighting
Finish your custom cabinetry with lighting elements that add function and finesse. Add interior lighting to a custom hutch so you can showcase your dinnerware. Put toe kick lights under a central island to add dimension and brightness to your kitchen. Trust lights under cabinets to create additional workspace in your office.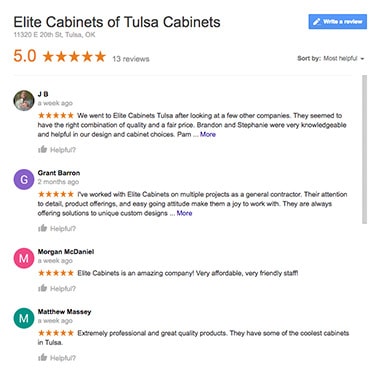 Get a Free 3D Design
Consultation